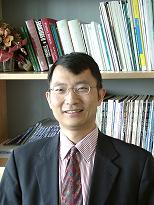 Huajian Gao, Walter H. Annenberg Professor of Engineering at Brown University, has been selected to receive the 2011 Charles Russ Richards Memorial Award from the American Society of Mechanical Engineers (ASME) for outstanding achievements in mechanical engineering 20 years or more following graduation. Formal presentation of the award is scheduled to take place during the ASME International Mechanical Engineering Congress and Exposition, to be held in Denver, Colorado, from November 11-17, 2011.
The award, established in 1944 by Pi Tau Sigma in coordination with ASME, honors Charles Russ Richards, founder of Pi Tau Sigma at the University of Illinois, former head of mechanical engineering and dean of engineering at the University of Illinois and later president of Lehigh University. He was a member of ASME and served on its Board of Governors.
Professor Gao received his B.S. degree from Xian Jiaotong University of China in 1982, and his M.S. and Ph.D. degrees in Engineering Science from Harvard University in 1984 and 1988, respectively. He served on the faculty of Stanford University between 1988 and 2002, where he was promoted to associate professor with tenure in 1994 and to full professor in 2000. He was appointed as Director and Professor at the Max Planck Institute for Metals Research in Stuttgart, Germany between 2001 and 2006. He joined Brown University in 2006. Professor Gao has a background in applied mechanics and engineering science. He has more than 20 years of research experience with 200+ publications.
Professor Gao's research group is generally interested in understanding the basic principles that control mechanical properties and behaviors of both engineering and biological systems. His current research includes studies of how metallic and semiconductor materials behave in thin film and nanocrystalline forms, and how biological materials such as bones, geckos, and cells achieve their mechanical robustness through structural hierarchy.